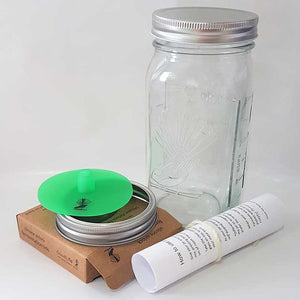 Fermentation Jar Kit 1L
Kits include: 
Glass Jar with screw on metal lid (which you can use to store the finished product) & Silicone Fermentation Lid and Band in our eco box with instruction / recipe sheet.
-BPA free, non toxic to people & the planet
-Self burping automatic venting lid
-Food grade silicone
Our Fermentation Jar Kits make it so simple to do your own fermented product at home. The silicone one way airlock lid creates the perfect environment for making a range of foods such as Kimchi, Sauerkraut and Vegetables.
Home fermentation is fast becoming a new way for people to take control of their health and wellbeing.  Fermented foods ensure good gut bacteria and deliver more probiotics to your body. 
These make a great gift for the person who has everything.
Join the Fermentation Revolution