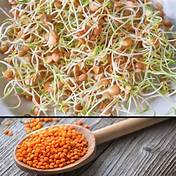 Lentils (Red) seeds 600G or 1KG
Sweet, nutty and cruncy. Excellent in soups, salads, snacks or sandwiches. High in iron, B vitamins and fibre. Lentils are nice raw, can be steamed or make a good meat substitute in loaves and rissoles. Lentils help control blood sugar levels and prevent atherosclerosis. They help break down fat and stimulate a sluggish metabolism.

Harvest when the shoot is the same size as the seed at 4 days.  25 seeds per gram - 1 gram of seed will produce 5g of sprouts.
Contain Vitamin E, B6, B17, Folic Acid, Iron, Molybdenum, Copper, Calcium, Selenium, Zinc, Isoleucine
Make it easier and sprout in our Easygreen auto sprouter