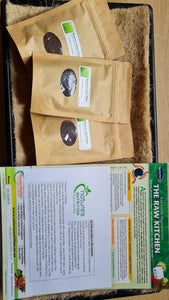 Microgreens kit. 3 packs of 100G seeds, hemp mats, trays, chart & instructions
Everything you need to grow microgreens:
3 packs of 100GM seeds:  Green Broccoli, Mizuna and Stir Fry combo
Plus pack of 3 hemp mats to make growing easy and quick to germinate, set of 2 trays to grow them in and a raw foods chart and instructions.
 All 3 seeds hold powerful nutrients, vitamins and minerals and have anti-cancer properties.  See individual seed listings for complete details.