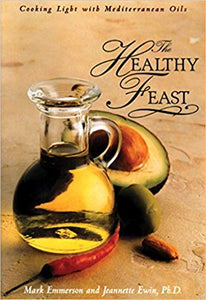 The Healthy Feast book by: Mark Emmerson and Jeannette Ewin, PHD
The Healthy Feast: Cooking Light with Mediterranean Oils
by Mark Emmerson and Jeannette Ewin, PHD
Delicious recipes that eliminate saturated fat from your diet.
In recent years scientists have discovered the dangers of saturated fat, and the craze is on to eliminate all fat from the American diet. But this trend fails to recognize that unsaturated fat is a key to good health and is also the carrier for most of the flavour in our food. Following the guidelines of the popular Mediterranean diet, The Healthy Feast emphasizes using healthful oils, combined with ingredients such as fresh vegetables and fish, to create light meals that meet all of our nutritional needs.
Extra-virgin olive oil plays an important part in these recipes, as well as flavourful oils pressed from avocados, walnuts, almonds, hazelnuts, and others. Recipes such as Crispy-skinned Wild Salmon with Rice Noodles, or Quail and Green Bean Salad with Walnut Oil Dressing will appeal to your palate and perhaps add years to your life, while vegetarians will be pleased by such dishes as Parsnips and Hazelnut Oil Puree or Warm Goats' Cheese Salad with Jerusalem Artichoke Crisps.