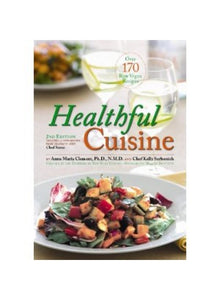 Healthful Cuisine book By (authors) Anna Maria Clement and Kelly Serbonich
If you're one of the millions of people who have learned about the superior health and nutritional benefits of raw and living food and want to begin experiencing its life-enhancing qualities, then 'Healthful Cuisine' is for you. You'll find simple and easy steps to prepare delicious, high frequency foods for enhanced energy, balance and beauty. 
Healthful Cuisine is by far one of the most comprehensive recipe book and teaching guide of its kind, created by the worlds #1 medical spa and foremost authority in raw and living foods nutrition, HIppocrates Health Institute.
Included are
More than 150 raw food and living food recipes
20 new recipes from celebrity guest chef Chad Sarno
40 pages of illustrated raw food preparation techniques
More than 50 full colour photographs showing step by step instructions
Guide for stocking your kitchen and a complete glossary of foods and tools
Hundreds of helpful tips
Basic food combining principles for optimising nutrient assimilation
PLUS basic recipes for pie and pizza crusts, wraps, dressings, marinades, pates, fruit leathers, nut milks, crackers, cookies, vegetable and fruit chips and more!